May I extend my warmest greetings to members, auxiliary members and families of MWVO and wish all of you in physical and spiritual wellbeing.

Myanmar War Veterans Organization has uploaded MWVO website. MWVO, organized by prescribing law, is a Non-Government Organization is indeed to render mutual assistance among members and to participate in national security matters as a reserved force. Information such as objectives, missions and implementation, organization, activities and rule and regulation of MWVO will be released in the website for the entire people, members and auxiliary members.

Apart from that, information about MWVO, member of VECONAC, is available for international veteran's organization as well as information about international veterans organization can be utilized by us.

As we have uploaded MWVO website with the support of State, Region and township war veterans organizations, it is to be informed that we all can share news from multi-sectors in timely manner and achieve veterans affairs with great momentum.

In this very first occasion of website uploading, I wish all of MWVO members and auxiliary members well and urge

to unitedly participate in the cause of the nation and the MWVO.
Myanmar War Veterans Organization Special Conference (2018)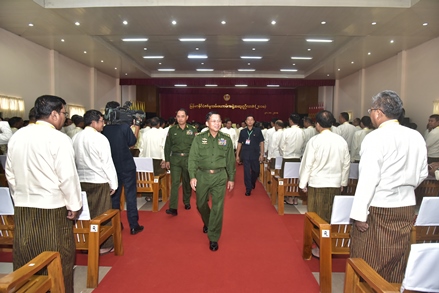 31-Oct-2018

NayPyi Taw October 31
Myanmar War Veterans Organization Special Conference (2018) held at the conference hall of the MWVO Headquarters in Dakkhinathiri Township, Nay Pyi Taw Council Area, this morning.
Patron of MWVO Commander-in-Chief of Defence Services Senior General Min Aung Hlaing attended the above mentioned metting and gave an opeaning speech.
The meeting was also attended by Deputy Commander-in-Chief of Defence Services Commander-in-Chief (Army) Vice-Senior General Soe Win, Union Ministers Lt-Gen Sein Win and Lt-Gen Ye Aung, Chief of the General Staff (Army Navy and Air) General MyaTunOo, Commander-in-Chief (Navy) Admiral Tin Aung San, Commander-in-Chief (Air) General MaungMaungKyaw, Lt-Gen Aung Htwe(Retd),Lt-Gen Kyaw Win(Retd), Lt-Gen Ye Myint(Retd), Lt-Gen Khin Maung Than(Retd),Lt-Gen Tin Aye(Retd) senior military officers from the Office of the Commander-in-Chief, MWVO CEO Chairman Maj- Gen Mya Win (Retd) and members, the commander of Nay Pyi Taw Command, chairmen of war veterans supervisory committees, conference delegates and invited guests.
The Senior General then cordially greeted war veterans present at the ceremony and posed for documentary photo together with central executive committee members of Myanmar War Veterans Organization.


Township veterans are given grants to meet the full 75-year veterans party members
15-Jul-2018

Praise township of Yangon with the veterans group meeting (75)year of age are given grants veterans, member of the group match yesterday morning, 9 hours kyark street District was held at a Veterans Affairs office .During the meeting, Chairman of the War Veterans Organization residents Major Kyaw Moe Kyi (townships)and veteran member of this meeting is being held(75)years of age presented to veteran members allowances being explained.

The township veterans group(75)years of age to 17 veterans Township Veterans Association chairman Colonel kyaw Moe Kyi (townships)and officials to grant allowances to former military service discussed the group's clearing process.
Previous Events
2019 WORKING COMMITTEE MEETING
3-7-2019 to 6-7-2019 Cambodia Siem Reap
VECONAC 18th GENERAL ASSEMBLY
From 11-12-2018 to 15-12-2018 LAOS, Vientiane

Special Conference Myanmar War Veterans Organization(2018)
From 29-10-2018 to 31-10-2018 Dekhina Thiri Tsp, Naypyitaw
7th Conference of Myanmar War Veterans Organization(2016)
From 12-10-2016 to 14-10-2016 Naypyitaw
VECONAC 17th GENERAL ASSEMBLY and VECONAC 30th EXCEUTIVEBOARD MEETING
From 23-11-2017 to 27-11-2017 BRUNEI DARUSSALAM, Bandar Seri Begawam
Current Events
VECONAC 19th GENERAL ASSEMBLY and VECONAC 32nd EXCEUTIVEBOARD MEETING
From 8-12-2019 To 12-12-2019